Accessories have been on my mind as of late. I love how one piece of costume jewelry can amp up an outfit that would have otherwise been boring. Plus who doesn't love an inexpensive amazing piece of sparkle! Anyways lately I've been getting bored with my necklaces and charms and thought I'd share what pieces I have been eyeing for my new wardrobe. Tell me what you guys think! Oh and for my next post I decided it would be cool if I did a post about something you guys where interested in, I really appreciate the support (20 followers in 2 weeks WOWZA!) and I just wanted to say thank you so thank you, love you all! Anyways so let me know what you guys wanna see, I could do a questionnaire, a post helping you figure out to wear, anything. I'm all ears!
Tree Trunk Ring: I love how this ring is tree trunk wrapped around a person's finger, it's so clever and unique.

Treasure Chcst Medallion Necklace: I've featured this necklace with an outfit before and I continue to be obsessed. I love the contrast of the silver and brass and the uniqueness of this piece.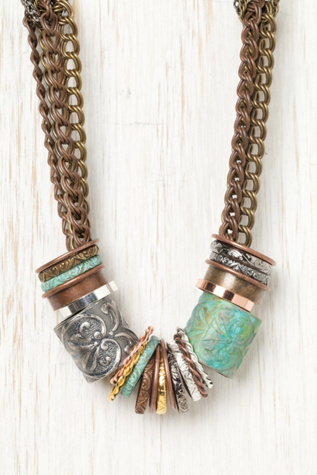 Chain & Ring Necklace: I love the contrast of the brass, faded turquoise, and silver in this piece. It's definitely a unique piece that commands attention.